Colr is the set of shaders designed to make coloring of objects quick and easy. Colr helps you achieve stylish and consistent look for your game by letting you select colors of material sides directly, bypassing lighting.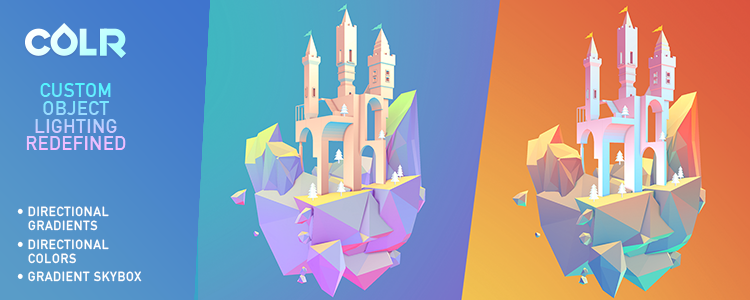 Colr features:
Color everything: apply directional (per-side) GRADIENTS and/or SOLID colors to objects; fill skybox with gradient
Uses no lighting and no textures, thus performs fast and has a clean look.
Mobile friendly
Adjustable. A variety of handy parameters provided for you to tweak
Easy to use. Can be used on any object, just assign the shader to a material
Includes three different demo scenes with lots of presets and models
Built-In and Universal RP support
For extended capabilities, check out the Marvelous Techniques asset, which inspired Colr.
Special! Check out our complete project – Flight Kit (Web Page, Unity Asset Store which includes Colr and a demo game.
---